When:
Monday 21 November 2022 at 12pm
Where:
Faculty Club
Corvinus University
Fővám tér 9
1093 Budapest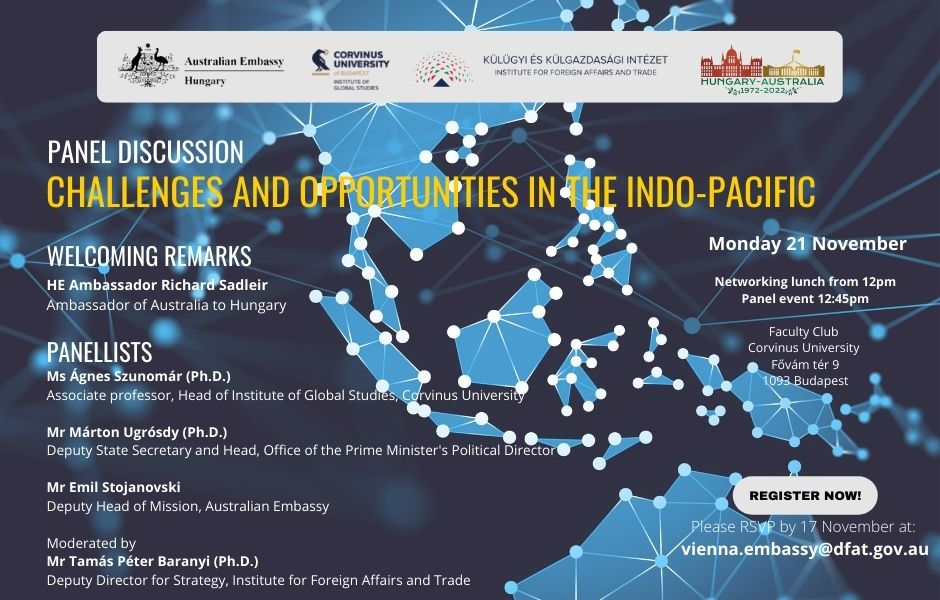 Our expert panel will examine the concept of the Indo-Pacific, and assess the region's importance to global political and economic dynamics.
The panel will consider the current economic and security situation in the Indo-Pacific, the outlook for the near-term, and the key challenges and opportunities presented.
And they will discuss Europe, Hungary and Australia's respective approaches to the Indo-Pacific region, and how those approaches may be changing in response to contemporary developments.
The panel discussion will be co-hosted by the Australian Embassy, the Corvinus University of Budapest, and the Institute for Foreign Affairs and Trade.
Please RSVP by Tuesday 17 November at: [email protected]
PANELLISTS
Ms Ágnes Szunomár, Head of Institute of Global Studies, Corvinus University
Mr Márton Ugrósdy, Deputy State Secretary and Head, Office of the Prime Minister's Political Director
Mr Emil Stojanovski, Deputy Head of Mission, Australian Embassy to Hungary
Moderated by Mr Tamás Péter Baranyi, Deputy Director for Strategy, Institute for Foreign Affairs and Trade