When:
Tuesday 24 May 2022 at 6pm
Where:
Faculty of Social Sciences
University of Ljubljana (Grand Hall)
Kardeljeva ploščad 5
1000 Ljubljana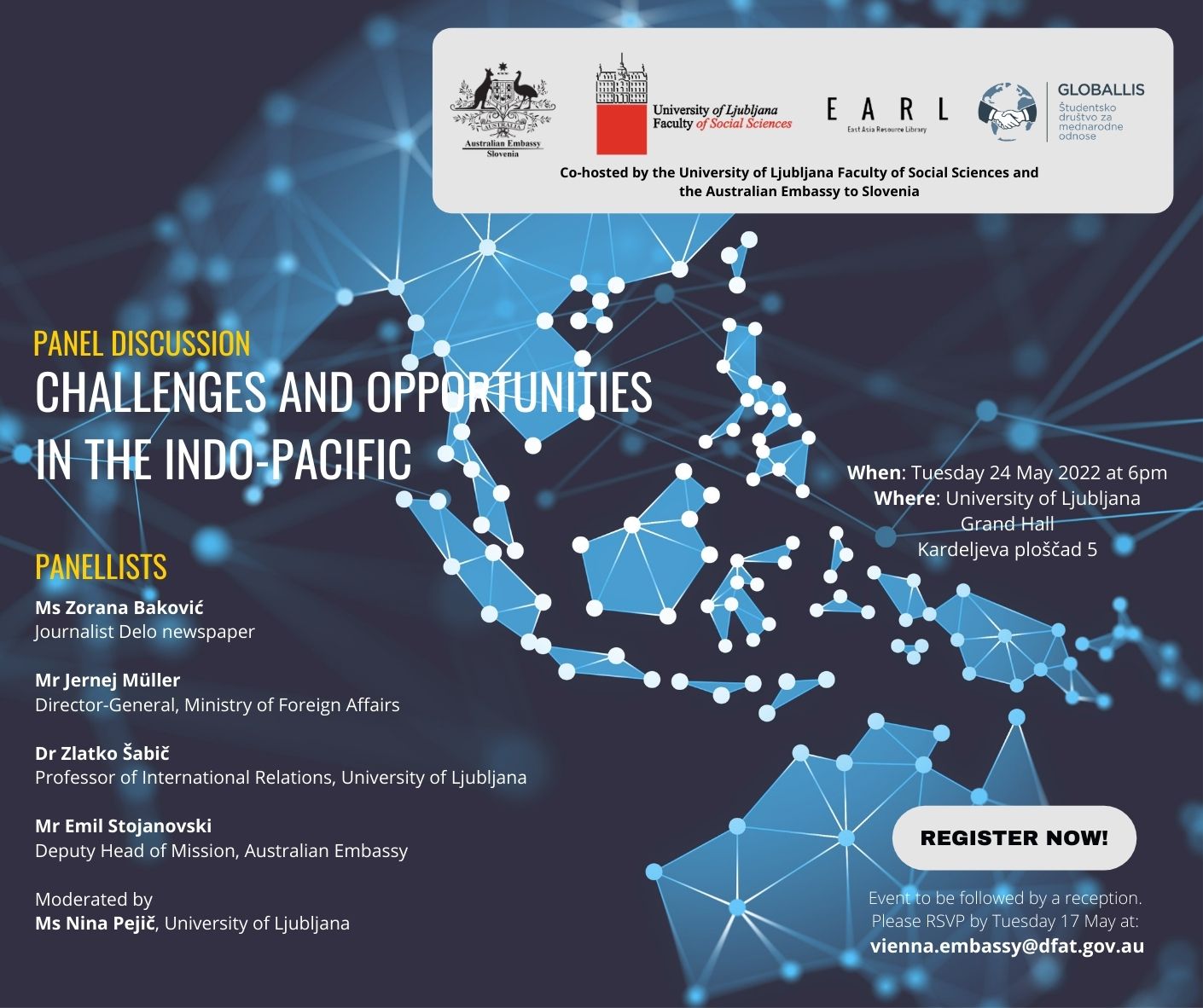 Join our expert panel for a lively discussion and Q&A focused on the challenges and opportunities in promoting stability, security and prosperity in the Indo-Pacific.
STABILITY Are we facing a crisis of the post-Second World War international system? How can we – or should we even – adapt the rules?
SECURITY How can Europe and the Indo-Pacific work more effectively in tandem to address shared security challenges? What stake does Slovenia have in the future of the Indo-Pacific?
PROSPERITY As we emerge from the COVID-19 pandemic, how can European engagement in the Indo-Pacific help promote global economic growth and prosperity?
Event to be followed by a reception. Please RSVP by Tuesday 17 May at: [email protected]
PANELLISTS
Zorana Baković is a senior correspondent for Slovenian newspaper Delo, specialising in Asia. She is an award-winning journalist and leading expert in Chinese politics, economics and society with more than 30 years' experience in the field.

Jernej Müller is the Political Director and Director-General for Common Foreign and Security Policy at the Slovenian Ministry of Foreign Affairs. He has responsibility for Slovenia's foreign policy engagement in the world, including Indo-Pacific and strengthening cooperation on security issues.
Dr Zlatko Šabič is a Professor of International Relations at the University of Ljubljana, the Director-General of the East Asia Resource Library (EARL), and Director of the King Sejong Institute Ljubljana. Recently his research projects have touched upon Europe–East Asia relations, the Western Balkans, Central Europe, and international parliamentary relations and diplomacy.
Emil Stojanovski is the Deputy Ambassador at the Australian Embassy to Slovenia, also accredited to Austria, Bosnia and Herzegovina, Hungary, Slovakia and the International Organisations in Vienna. He worked across a range of Indo-Pacific issues, including ASEAN, North Asia and transnational crime.

Moderator Nina Pejič is a researcher, doctoral student and international relations expert at the University of Ljubljana. Her fields of expertise include China's economic growth, China's Belt and Road Initiative in Central and Eastern Europe and the 16+1 Initiative.